BOTTEGA CHRISTMAS MARKET IN SUPPORT OF KARIS SUPPORT SOCIETY
NOVEMBER 26 & 27 / 11am – 5pm
The Bo.ttega Christmas Market celebrates six years of bringing artistic expression, community and philanthropy together. The Bo.ttega Christmas Market in support of Karis Support Society takes place on November 26th & 27th from 11 AM to 5 PM. Held at the beautiful Bo.ttega Farm Inn, the festive market promises to inspire warm holiday memories and traditions. More than 50 artisans, many new to the market, will display their work for the community to purchase.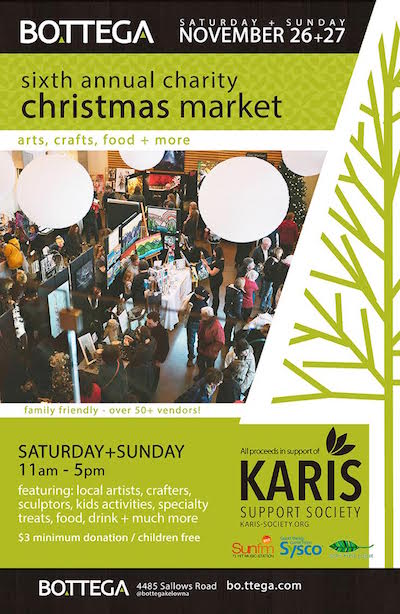 As families stroll through the market, they will be able to purchase unique gifts or decorations, participate in special activities for the children and enjoy lots of treats. This year, Karis Support Society will be hosting a Crepe Bar and Smoky Stand.
The entrance fee is a minimum $3 donation to the Karis Support Society in benefit of their Counselling Program. Karis Support Society contributes to genuine social transformation in the Okanagan Valley by providing a safe home, support throughout recovery, and life skills development for women and women with children struggling with life altering addictions and mental health conditions. Karis helps individuals recognize the potential of their life, supports them in their recovery and restores them to society where they can make meaningful contributions.
Bo.ttega is located at 4485 Sallows Road in East Kelowna. To learn more about Bo.ttega, please visit http://bo.ttega.com. To learn more about Karis Support Society and the wonderful work they do in the community, please visit www.karis-society.org or contact Alisha MacGregor at alisha@karis-society.org.